Description
商品說明 : 
UDOO BOLT v3 開發板(AMD RyZenCPU, 3.2HGz, GPU核心,兼容Arduino)
這是一個既適合創客者使用也適合商品化的高階系統板,AAA Gaming, high-end VR, cryptocurrency mining, client-side 3D rendering, AI, IoT, Edge Computing, Computer Vision, Real-Time Big Data analysis, AI 等應用都難不倒它。性能等同於  MacBook Pro 13,超過Intel i5的能力。
UDOO BOLT 性能等同於  MacBook Pro 13 equipped with an Intel i5 and three times more powerful than a Mac Mini.
它還有能力一次驅動4個  4K Ultra HD解析度的螢幕
Linux 和 Windows 作業系統都可跑
We will release an extensive documentation and tutorials regarding the IOs and more geeky stuff about the hardware architecture. Moreover, we will publish new DIY projects based on the UDOO BOLT.
Because everyone can be a maker.
UDOO BOLT is just 4.7 inches (12cm) x 4.7 inches (12cm). It's a real superminicomputer! AND it also comes with a thunderous metal case!
In a not-so-distant future, robots will be everywhere, much like computers nowadays.
But to build the I-Robot world we need to learn robotics right now.
We need a computer that can turn into a robot and program the physical world.
Here comes the UDOO BOLT.
The UDOO BOLT mounts an Arduino™ Leonardo-compatible microcontroller, based on ATmega32U4.
It has the same pin functionality of Arduino™ Uno, plus some advantages:
up to 12 analog inputs instead of 6.
7 PWM pins.
The internal USB connection can implement 

other functions than serial UART like MIDI or Keyboard

.
Software-wise, the Arduino™ Leonardo onboard offers all the perks of Arduino™ Uno:
Arduino™ IDE full compatibility

;

compatibility with all the sketches, tutorials and resources available in the Arduino™ community

 that run on Arduino™ Leonardo.
On top of that, the UDOO BOLT provides you with the advantage of managing sensors through the Arduino™ platform without the welder thanks to the Grove connectors already onboard.
But wait, there's more! Not only you get the Arduino™-dedicated I/Os, but also I/Os controlled by the processor.
Last but not least, we've also added an embedded controller that can manage UART, I2C, and SPI, not to mention a keyboard scan, so to control the software running on the UDOO BOLT. In other words, you can create an interface for the software controllable with the keyboard.
As a cherry on top, the UDOO BOLT features the communication between the CPU and the Arduino™-compatible platform via USB. Thanks to this distinctive feature, the board may allow the Arduino™-compatible microcontroller to run when the powerful CPU is turned off, and wake it up when something happened in the world.
The UDOO BOLT comes with 32 GB of eMMC.
Also, thanks to the PCI-Express 4 lanes exposed on the M2 Slot you can add even more storage with a faster-than-average speed: the UDOO BOLT is indeed compatible with the fastest SSDs, NVMe SSDs, which go at double the speed of UDOO X86!
In other words, you can boot from everywhere.
This beauty is not just for retro gaming.  There are no words: look for yourself.
Amazing, huh?
Indeed, the UDOO BOLT is more than ready for the hard gamer in you:
PCI-express 4 lanes

, which means compatibility with the new-generation NVMe SSDs, the fastest ones.

Possibility to add a 4-lanes-compatible external GPU

 for an over-the-top, immersive gaming experience.
It supports 

High Dynamic Range (HDR) 

and 

FreeSync 2

.
It works with 

any motion controller

 

or

 

gaming accessory

 that already works on your PC.
It's great for 

VR, especially DIY VR

.
It embeds an 

Arduino™-compatible platform

, so you can build your own gaming platform the way you really want.

Keyboard Scan

 to create 

combo custom controllers

.
Maker boards are not suitable for Virtual Reality.
Technical specifications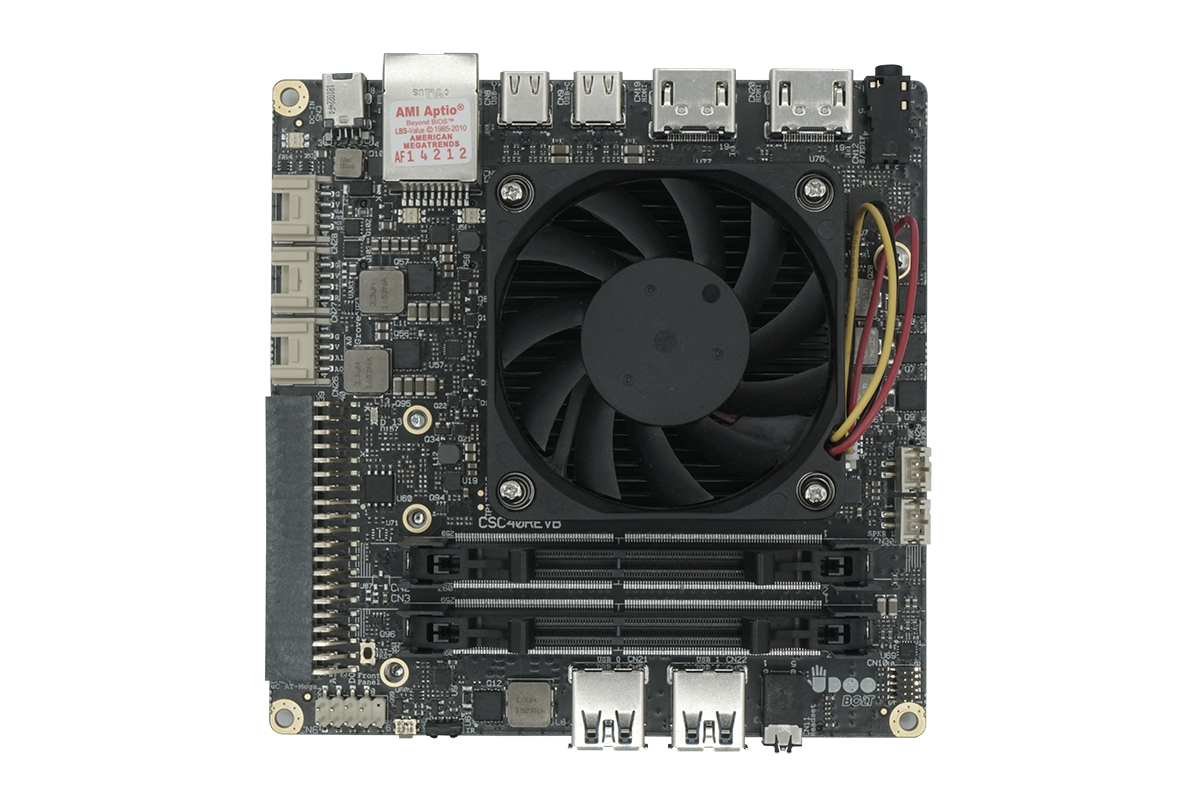 Processor:

CPU AMD Ryzen™ Embedded V1605B SoC up to 3.6 GHz (V8 version)
CPU AMD Ryzen™ Embedded V1202B SoC up to 3.2 GHz (V3 version)

GPU:

AMD Radeon™ Vega 8 Graphics – 8 GPU Compute Units (V8 version)
AMD Radeon™ Vega 3 Graphics – 3 GPU Compute Units (V3 version)

RAM:

2x SO-DIMM Dual-channel 64-bit DDR4 2400 MT/s with ECC support up to 32GB

Microchip ATmega32U4 8-bit AVR RISC-based microcontroller.
Video interfaces:

2x HDMI 1.4/2.0a
2x USB Type-C (DP alternate mode)

Storage:

1x 32GB internal eMMC 5.0 High Speed Drive
1x M.2 Socket 2 Key B 2242/2260 for SSD SATA modules (featured also PCI-e x2)
1x M.2 Socket 3 Key M 2280 for NVMe modules (PCI-e x4 Gen 3 interface)
1x SATA III 6Gbit/s standard connector

Networking:

1x Gigabit Ethernet LAN interface
1x M.2 Key E slot for optional Wireless (WiFi+BT) Combo module

Audio interfaces:

HD Audio Codec Realtek ALC888S
Microphone + Headphone Combo Connector (TRRS)
Pre-amplified stereo Speaker Connectors (up to 3W)
Digital Optical audio S/PDIF and analog stereo output combo jack 3.5mm connector

2x USB 3.0 type-A sockets
2x USB Type-C :

USB 3.1
DisplayPort Alternate Mode
Dual Role Port (DRP) USB Power Delivery (USB-PD) 3.0

Embedded Controller I/O :

2x UART ports*
2x I2C interface*
1x SPI interface*
1x Keyboard Scan interface*
1x FAN Controller*
up to 10x GPIO

Power In:

19V DC Power Jack min 3.15A (60W) for basic functionalities – Male connector 4.5mm x 3.0mm with pin inside.
2x USB Type-C power in. PD sink profile 20V/3A(60W).

RTC Battery Connector + RTC Coin Battery
Bi-color Power Status LED
Arduino™ Leonardo-Compatible I/O :

12x analog inputs*
up to 23x digital input/output (7 PWM)*
1x UART 1x I2C 1x SPI*
3x Grove connectors:

1x ANALOG INPUT, 1x UART or DIGITAL I/O, 1x I2C or DIGITAL I/O

Dimensions: 12cm x 12cm – 4.72" x 4.72"
文件和學習資源:
都在這裡 !
影帶和照片 :